Extra Help is experiencing phenomenal growth at the moment and, in this week's blog, we're delighted to welcome another new franchisee to the Extra Help family.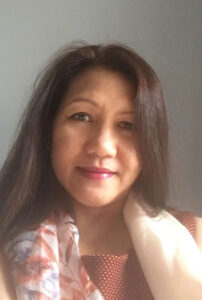 Gelyn Sabatier, who lives in Mitcham, joined us during lockdown and launched her new business, Extra Help Wandsworth, at the beginning of June. Extra Help Wandsworth covers the SW16-SW19 postcodes in London.
Gelyn has been a registered nurse for over twenty years, working in various hospital departments, including Intensive Care, the High Dependency Unit, Cardiothoracic / Cardiology, Respiratory and General.
Despite thoroughly enjoying her nursing career, Gelyn had always dreamed of running her own business. However, she had never been able to come up with a viable and affordable model.
"I was nervous about starting a business on my own because there are so many scams around and people never know who they can trust," she says, "I wanted to run a home-help business but knew that earning people's trust in a new, previously unknown brand would be quite challenging in this industry."
When Gelyn found Extra Help, she was particularly attracted by the fact it was so affordable and came across as extremely genuine. She also believed it would give her the flexibility to work from home and choose her own working hours.
"I loved being given the option to work full or part-time, which would enable me to spend more quality time with my family," she says.
Gelyn met Claire Robinson in London, who thoroughly explained the process of becoming a franchisee to her and outlined the benefits of the franchisee package. As Gelyn was so inspired by the meeting, she decided to sign up there and then!
Despite the entire country being forced into lockdown, Extra Help succeeded in providing Gelyn with all of the training required to start and manage her business. Since then, Gelyn has been busy recruiting home-helpers and finding clients through social media, organising advertising and following up leads gained through referrals and word of mouth.
She has also been using the Extra Help franchisee support group, which has been extremely useful in providing her with ideas to boost her business.
"The Extra Help team and the other franchisees are so supportive," says Gelyn, "They are always there when you need them to answer a question and I feel so reassured to know they're just a phone call or message away if I need them."
Gelyn is promoting the entire range of Extra Help services to her clients, including Parents' Help, as she believes that offering a wide range of services will appeal to more people and widen her target audience. Her plans for the future include expanding her territory to include the surrounding areas.
"I've seen another franchisee buy a second Extra Help franchise in an adjoining area recently, and it's something I'd really like to explore too, once my initial territory is established," she says, "To me, it seems the obvious way to grow the business."
Gelyn's advice to potential franchisees is simple.
"When you first start you'll need to be prepared to work really hard, but my advice is to persevere and things will get better," she says, "If others can make it, then so can you!"
If you'd like to run a rewarding, recession-proof business providing valuable, home-help services to your local community, visit https://www.extra-help.co.uk/franchise-opportunities/ or call us on 01604 532932 for a chat.