In this week's blog, we'd like to introduce you to Daniel Nantwi, one of our newest franchisees. Daniel has been running Extra Help Ilford, since the beginning of July. As well as Ilford, he covers Barking, Redbridge and Woodford, all of which are busy, heavily populated areas, with a higher-than-average number of residents over the age of 65.
Daniel lives in Ilford with his wife, Gloria, and three children. Since 2012, he has worked as an area manager for a commercial cleaning company that specialises in cleaning retail and leisure facilities, such as gyms and commercial venues. However, Daniel, who is a part-qualified accountant with ACCA, had always dreamed of running his own business. With his extensive, commercial knowledge, gained from a diploma in Business Administration; a degree in Economics at Heriot-Watt University and an MBA at the International University in Vienna, he was keen to put his skills to good use and, earlier this year, started researching possible business opportunities.
After some investigation, Daniel decided that franchising seemed to be the way forward for him.
He says: "I knew it would take me a long time to set up on my own and realised that, with franchising, you can potentially receive leads to help you build your
client base and access to a proven business model and support, to help you grow more quickly." Whilst researching franchises, Daniel discovered Extra Help among various other opportunities. He says he was particularly attracted to it for various reasons.
"I looked at the website and it sounded ideal. I'm really good at interacting with people – I genuinely like people!" he says, "I particularly loved the idea of being able to help people in my community, particularly the elderly, and play an active role in improving society as a whole."
Since receiving his training, Daniel has been busy preparing for the launch of Extra Help Ilford. He has concentrated on building his social media profile on Facebook; placed a series of Google adverts and delivered his first leaflet drop. He also intends to join an online services platform marketplace that will enable him to receive leads and build his client base.
Extra Help Ilford offers a wide range of home-help services to make life easier, for example:
· Cleaning
· Shopping
· Laundry and ironing
· Gardening
· Light DIY tasks
· Companionship
· Meal preparation
· Escorting to doctor / hospital
· Hairdressing appointments
· Respite for carers
· School runs
· General help for parents
· Dog walking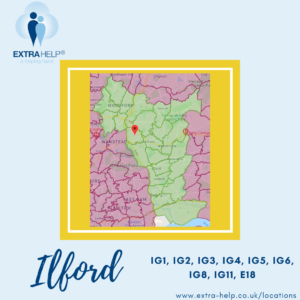 If you or your loved ones are looking for home-help or cleaning services in the Ilford, Barking, Redbridge and Woodford areas, please call Daniel on 0203 995 5886 or 07535 426796. Alternatively, you can visit https://www.extra-help.co.uk/local_offices/ilford.