In this week's blog, I'd like to officially welcome Shereena Badu to the Extra Help family. Shereena has been running Extra Help in Wood Green, in North London, since July this year.
Extra Help Wood Green covers the London postcodes N2, N6, N8, N10, N11, N13, N14, N21 and N22. Wood Green, in the heart of Haringey, is home to a bustling and diverse community. It is the focus of two major regeneration plans by the London Borough of Haringey, which include the building of over 7,000 new homes; the creation of 4,000 new jobs and a redeveloped town centre.
Shereena is a student nurse and recently decided she needed to find an additional source of income. As she'd always dreamed of running her own business, she started looking for flexible business ideas and discovered franchising.
"It was the convenience of franchising that appealed to me," she says, "I also loved the idea of being part of a network where everyone is working towards the same goals, using the same, proven business model."
Shereena first found Extra Help while searching for low cost franchise opportunities online at the beginning of 2021. Although initially interested, Shereena continued with her search and considered many other franchises but none seemed quite right. She had almost forgotten about Extra Help completely when she received a follow-up call from Extra Help's Head Office team at the end of May.
She says: "It was perfect timing – they caught me just as I was about to give up on my search! I then remembered Extra Help and how much I had believed in their ethos when I first saw their website, helping people in the community etc, which is something I really wanted to do, so I decided to go for it."
Once Shereena had made up her mind that Extra Help was the perfect franchise for her, things fell into place quickly. She received online training, was assigned a mentor, fellow Extra Help franchise owner, Denise Cooper, and was all ready to launch her business by July.
"Denise is lovely and so proactive – she calls me every week to see how I'm getting on and whether I need any help!" says Shereena, "The rest of the team has been very supportive too."
Now her business has launched, Shereena is able to offer the entire range of Extra Help services, including:
Cleaning
Shopping
Laundry and ironing
Gardening
Light DIY
Companionship
Meal preparation
escorting to doctor / hospital
Hairdressing appointments
Respite for carers
School runs
General help for parents
Dog walking…
…and more!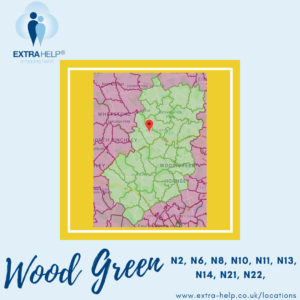 Shereena is also a Dementia Friend, meaning she has learnt about the disease and how she can provide help and support to people in her community who are living with dementia, so they can continue to live independently.
Find out more about Dementia Friends
If you or your loved ones are looking for home-help or cleaning services in the Wood Green or surrounding areas, please call Shereena on 020 8102 0209 or visit https://www.extra-help.co.uk/local_offices/wood-green/.