If you're looking to invest in a franchise but are afraid of doing it alone, why not consider joining forces with a friend? That's what the franchisees of Extra Help Wirral did, and they've had tremendous success …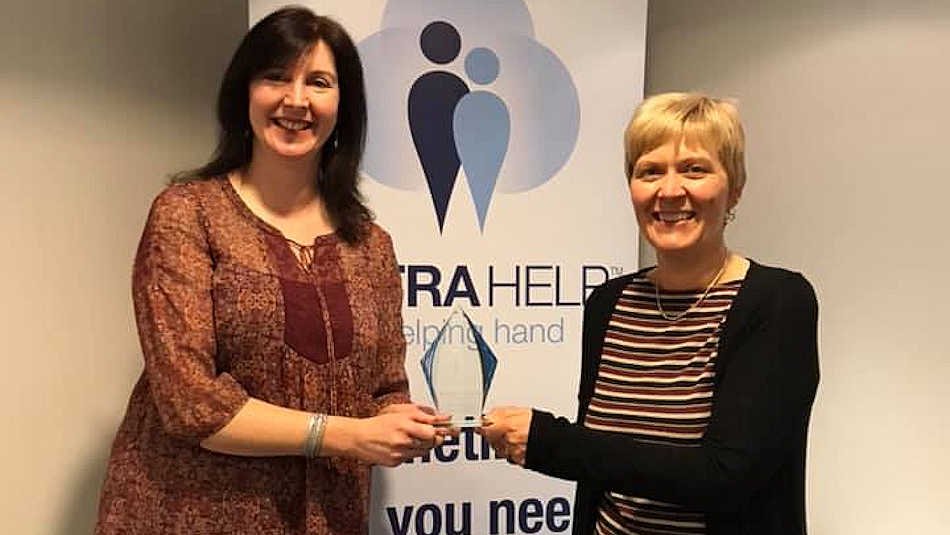 Of course, we've all heard horror stories about people who start businesses with friends and end up losing their friendships (and often, businesses) over it.
However, there's also overwhelming evidence to suggest that, if you establish the ground rules from the beginning, with a co-founder who shares your beliefs and vision for the business, you are very likely to achieve your goals.
In fact, some of the world's most prominent brands were founded by groups of friends, such as eBay, Harley Davidson, Google and even Apple. Another prime example of a business founded by friends that have achieved fantastic growth and success is Extra Help Wirral!
Established by Cath Arnold and Carol Godding in 2016, who originally met at their children's school, this successful franchise was even recognised at the recent Extra Help Franchisee Awards, winning the Consistent Franchise Growth Award.
---
We caught up with Cath to find out the latest from Extra Help Wirral:
Hi Cath, congratulations on your recent award! How does it feel to run an award-winning franchise?
Thank you! We both feel very honoured to have won an award for the third year running. We didn't expect to win anything this year, so it was a real surprise! We've grown the business a lot over the past few months as word has spread. It's been a very positive year for us.
How are things going for you at the moment?
Carol and I are absolutely loving it! We get a lot of satisfaction from what we do and things are going really, really well. It's built up to a point where we now have over 250 regular clients and 48 home-helpers! We've been able to build the business around our home lives at a rate that has suited us. Carol still does all of the admin for the business and I tend to deal more with the clients.
What does a typical day look like for you?
I drop the kids off at school first thing in the morning and start my client visits from about 9:30am. These visits will either be first meetings with clients, to find out more about their requirements and what sort of help they're looking for; or introductory visits, where I introduce the home-helper to the client before they start.
I then make my calls, including checking in with clients to make sure they're happy with our services. If I've recently attended my monthly networking meeting, I also use this time to make follow-up calls to potential clients I've met. After that, I leave to pick the kids up from school and spend time with them.
How do you find your clients?
We advertise in a local magazine called 'Love Wirral' every month, and that's where the bulk of our clients have come from in the past.
Back in April, we were asked to present to four Social Services departments at our local hospital, and that was really positive for us as we now get referrals through all of those teams. We've also had a few meetings with Age UK and get lots of referrals from them too.
What's the best thing about being involved with the home-help industry?
It's the fact that it's so rewarding. Our clients are really positive towards us and so grateful for our help. Our home-helpers say how rewarding it is too, especially as they make sure they include time to have a chat and a cup of tea with the clients, if that's what they want. It's wonderful to be able to do that for them, as some of them are quite lonely and look forward to our visits.
What's your work/life balance like these days?
Before, things were quite hectic as I was teaching full-time. Now, my time is my own and life is so much more flexible. I can do the school run and, if I need to go to events at school or take my mum to an appointment, I can do it.
I'm in the car a lot during the day, but find it easy to run this business on the move, as long as I have my phone and client folders with me. The beauty of this business is that you really don't need to be tied to premises all the time.
How much interaction do you have with Head Office and other franchisees?
As Carol and I have been running the franchise for a few years now, we don't tend to speak to Head Office that often, but we know they're always there for us if we need them.
We do have contact with other franchisees though, and are always happy to give advice. Now that there are more franchisees joining the company from the North, we're planning regional meetings, starting in the New Year. All the franchisees are very supportive and want to help each other succeed.
Now that you've been running your franchise for a while, if you had your time again, is there anything you would do differently?
Not much really! The only thing I would do differently is make sure I had a separate phone for work. We both use our personal numbers and, in retrospect, it would have been better to keep work and personal calls separate. Also, we could've built the business quicker, but we both agree that the pace has suited us and our family life perfectly.
If you feel inspired by Cath and Carol's success with Extra Help Wirral and would like to find out more about the Extra Help franchise opportunity,  give us a call on 01604 532932 today!