Here at Extra Help, we're always excited to be able to announce the launch of a new franchise. However, this week, we're particularly happy to introduce one of our newest franchisees, Sarah Canny, the owner of Extra Help South Hams, West Devon & Bude.
Why is this so exciting, we hear you ask? Well, Sarah is, in fact, the daughter of Claire Robinson, our founder and Managing Director. When Claire started the business, back in 2010, she was always hopeful that Extra Help would, one day, grow to become her legacy and a family-run operation.
Claire is, therefore, overjoyed that Sarah has chosen to work with Extra Help and feels she is already proving to be a huge asset to the team, as Sarah shares Claire's passion for helping others, along with her hardworking, entrepreneurial spirit we all know and love!
We caught up with Sarah to find out more about her decision to join Extra Help and her home-help and cleaning services in South Hams, West Devon and Bude.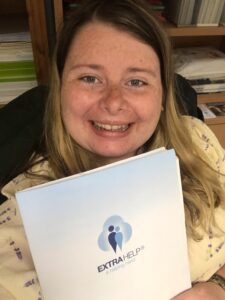 When did you officially join Extra Help?
Sarah: I've been around Extra Help since its inception, but I was still at school back then. It's been so inspiring to see my mum launch a successful business around her passion to provide support to those most vulnerable in our society, as well as providing domestic cleaning and home-help to everyone in the local community.
I initially got involved with Extra Help in 2019, by providing social media support to those within the business who weren't familiar with the various platforms.
In June 2020, I decided to launch my own Extra Help franchise, covering the South Hams, West Devon and Bude areas, amidst the COVID-19 pandemic, as I had witnessed, first-hand, a genuine need for our home-help and cleaning services to be extended to those rural villages and communities, especially at a time when families were unable to travel.
Where do you live and which areas are included in your territory?
Sarah: I live in Plymouth, but my partner grew up on the edge of South Hams. As I knew there were so many people needing our home-help and cleaning services in these more rural locations, I decided to expand out of Plymouth towards the east and north, covering lots of small communities like South Brent, Noss Mayo, Ivybridge, Modbury, Totnes, Kingsbridge, out to Tavistock, across the moors, and up to Bude.
What were you doing prior to joining Extra Help?
Sarah: I left school and went to Plymouth University to study Psychology, as I've always wanted to help people. I subsequently worked in a local technology shop, where I supported people with their purchasing decisions, learning a lot about customer service and the importance of listening to your clients.
After this, I travelled in Asia, where I taught English to children aged 2-12, before returning home to the UK. I then worked as a Business Development Manager for a national franchise association, helping the association to grow and develop connections within the franchise sector.
I'm now working full-time on Extra Help, concentrating on growing my own, successful franchise and providing support to the rest of the team.
What made you decide to join Extra Help?
Sarah: I was really inspired by our franchisees' comments about how much of a difference they were making to people's lives within their own communities. I wanted to bring our home-help services to the quieter, more rural areas of Devon. I could see how much job satisfaction was involved with Extra Help, which I feel is so important, especially when running your own business.
Other than running your own franchise, what else do you do for Extra Help?
Sarah: As well as running my own franchise, I've recently been appointed Director of Operations. My main role is to guide others around the country to run their own home-help franchises. Among other things, I help train other Extra Help franchise owners on how to support their local communities with our home-help and cleaning services.
How do you balance running your own franchise with your duties for the business as a whole?
Sarah: I work hard and, sometimes, I work late, but I always ensure I have enough time to spend with my partner, friends, family, and new puppy! I have great people in place to support me, including a lovely team responding to phone and web enquiries, as well as my wonderful home-helpers, who I couldn't be without!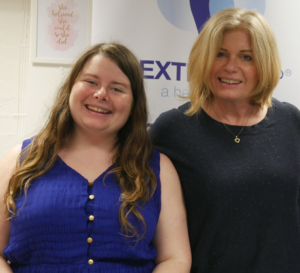 What's it like working with your mum on a daily basis!?
Sarah: It's actually amazing! She brought my two brothers and me up as a single parent, whilst simultaneously launching and growing Extra Help across the UK. This was exciting to watch and it's a pleasure to be able to spend time together in the office every day. I'm so proud of my mum, and grateful to be a part of the team providing much-needed home-help services, not only in Devon, but training others to do it too!
Why should potential franchisees choose Extra Help?
Sarah: Well, it's my mum's business so, obviously, I'm bound to be a bit biased! But I really do think Extra Help is a wonderful franchise to get involved with, if you're looking for the balance of being your own boss and having access to a network of genuinely kind and supportive people, who all want to see each other succeed, working together and sharing ideas to make their businesses successful. Plus, there's the wide range of services we offer – it means you can be really flexible and easily respond to the specific demand in your local area.
We're always looking for caring passionate individuals to open branches in their local area. So, if you, or someone you know, may be a good candidate please get in touch with us!
In your opinion, what's the best thing about working within the home-help industry?
Sarah: It's such a worthwhile industry to be involved with as you feel as though you're making a real difference to people's lives! I love being able to support people, such as helping older men and women to stay in their own homes for longer, by keeping on top of the housework, doing their shopping and changing the bed. We also provide companionship for isolated individuals and support clients who just want domestic cleaning, or those who may be juggling busy family lives or hectic careers, recovering from injuries etc. We can support anyone who needs a little Extra Help!
What advice would you give to potential Extra Help franchisees, based on your experiences to date?
Sarah: As with any business, you're more likely to succeed if you have a genuine passion for this industry. The work we do isn't always easy but it can also be very rewarding. You need to be prepared to work hard to build your customer base, especially during the early days. You also need to be caring and interested in making a positive difference within your local community.
We wish Sarah the best of luck with her franchise and new role as Director of Operations and are looking forward to watching her business flourish!
If you're inspired by Sarah's story and would also like to run a home-help and domestic cleaning business, offering flexible services to your local community, please give us a call or visit our website for more information.
Find out more about Extra Help's services in South Hams, West Devon and Bude.