As you know from our recent blogs, we've been focusing on our new franchisees, all of whom chose to join Extra Help within the past few months. These franchisees were specifically attracted to Extra Help because of the flexibility of the home-help and domestic services we provide, along with the fact that we've been allowed to remain open and helping our clients throughout the pandemic.
This week, we'd like to extend a warm welcome to Adrian Preece, who has recently joined our family to run Extra Help in Shropshire.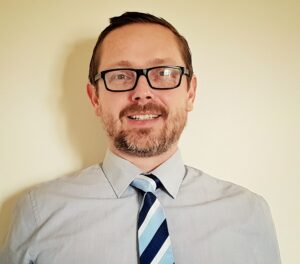 Although Adrian lives in Telford, his area stretches from Whitchurch in the north to Ludlow in the south, then from Shrewsbury in the east to Oswestry in the west, right up to the Welsh border. He is married to Samantha and has two, young daughters, as well as two teenagers from his first marriage.
Adrian originally worked in the financial services sector as a relationship manager, most recently at HSBC, looking after a portfolio of high net worth customers. Adrian's role was to keep in contact with these customers, ensuring he was there for them when needed.
However, in November 2019, Adrian's entire department was made redundant and his plans to find another role at the bank were thwarted by the pandemic. Coinciding with this, his mum, who is affected by Alzheimer's and Type 1 diabetes, began to need more support. Adrian took the decision to help the district nursing team and visit his mum daily to administer her medication. Having had many dealings with Social Care over eighteen months, Adrian became acutely aware of the lack of support on offer in his area to people like his mum, particularly those who are self-funding.
"I wrote to a number of sheltered housing places around the county, which has led to me working closely with an independent living coordinator for a housing association. My feeling is there are many vulnerable people of advanced years in this area who are crying out for the services Extra Help offers," he says.
Encouraged by this, Adrian began to explore the possibility of investing in his own, home-help franchise. He made the decision to go down the franchising route due to the fact that he'd never run a business before and was keen on the idea of learning from successful, business people, following a tried-and-tested business model.
After some research, he discovered the Extra Help franchise opportunity online and says he was instantly drawn to the variety of services he would be able to provide, especially as his personal experience with his mum had proven how help with things like decluttering, cleaning, companionship and meal preparation would have been of such great benefit to her.
Once Adrian had chosen Extra Help, the process of becoming a franchise owner was extremely speedy. He is currently receiving ongoing, virtual training, which he says has really helped to get him up and running, and has been assigned a mentor, fellow franchisee Sarah Canny, who owns the Extra Help South Hams, West Devon and Bude franchise. He is also making regular use of Extra Help's franchisee support group on Facebook, which he describes as 'extremely useful', enabling him to get to know other franchisees and pick up some valuable tips and advice.
Although his business is still in its infancy, Adrian is already receiving enquiries via an online review site and says he is veering towards support for elderly and vulnerable people who are living independently.
He says, "Cleaning has usually been the initial request. However, after explaining the other services we provide, I've discovered there's often a need for other support around the home. Providing that support, which I genuinely believe is lacking in this county, is a passion of mine, and the relationships I'm forging, with professionals, clients and home-helpers alike, makes me wish I had done this a long time ago."
Since launching his business at the beginning of March, Adrian has been busy delivering leaflets, following up leads, building his Facebook page and contacting a number of sheltered housing associations across the county, which has already led to some business. He believes that if things carry on as they are, he and his team will be able to make a tangible difference to the community they serve.
Now that his business has launched, Adrian has plenty of advice for potential franchisees. Firstly, he recommends to always follow up leads, as they're a great source of business, especially while you're waiting for your marketing to take effect, and to get to know your area and competition thoroughly. He also believes that, although you should lean on your mentor, it's a good idea to try out your own strategies too, as there are no rights or wrongs.
Adrian believes there is a huge, ongoing demand for Extra Help's services and encourages anyone with a genuine passion for helping others to follow his example and become a franchisee.
"If you really want to help people and give them time back to devote to the important things in life, you'll do well," he says. "Believe in what you do and your enthusiasm will be infectious to those around you. There's a real need for our home-help services, and far too many gaps in what's currently available, in my opinion. We can complement care services; work closely with housing associations to support their residents; provide our home-helpers with stimulating work, that's always different, and generally make a difference to our clients' lives."
We are very happy to welcome Adrian to the Extra Help family and look forward to sharing news of his achievements in the future!
If Adrian's story has inspired you and you'd like to run a home-help and domestic cleaning business, offering a flexible range of services to your local community, give us a call on 01752 905790 to find out if your area is available. You can also visit our website for more information.