Extra Help provides local communities with much needed home-help services, supporting clients with tasks such as cleaning, ironing, meal preparation, dog-walking, DIY tasks, looking after children, gardening etc. We have a network of 33 franchisees covering 3.3 million homes across the UK. Find your local branch here.
As we've mentioned in previous blogs, our franchisees have worked tirelessly over the past year, remaining open and supporting customers, despite the COVID-19 pandemic. We're still living in times where positive news is happily welcomed, so, imagine our excitement this week when we found out that Extra Help has won the Trustist Top Franchise Diamond Award!
If you've ever looked at our reviews online, you'll probably find you've visited the Trustist website. Trustist is a well-known and highly-regarded review platform and this is the first time they have run these annual awards, so we were especially honoured to be chosen as winners.
We won this award due to the number and quality of Trustist and Google reviews Extra Help received throughout 2020. This is the result of our franchisees' hard work over the past year and proof of the whole network pulling together to ensure our collective reputation remains consistent and positive.
Trustist told us:
"In 2020 you demonstrated an extremely high level of review collection and we wanted to reward you with a shiny new badge for your website, so that your potential customers can see how highly rated you are!"
Check out Extra Help's excellent reviews on Trustist.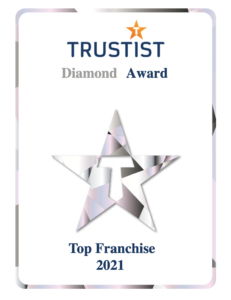 We applaud our franchisees, wholeheartedly, for encouraging so many customers to post such fabulous reviews. In particular, we'd like to commend Nealem Stephens, owner of Extra Help Windsor & Maidenhead, who is, in fact, celebrating her own Trustist award win this week. Nealem won the Top Performing Franchisee Diamond Award, in recognition of her success on the Trustist platform. Since starting her business in 2019, Nealem has amassed a grand total of 138 five-star reviews on Trustist, which is so impressive and demonstrates her dedication and commitment to excellent customer service.
If you'd like to join an award-winning franchise network and run a home help and domestic cleaning business, offering a flexible range of services to your local community, give us a call on 01752 905790 to find out if your area is available.
You can also visit our website for more information.