As the UK lockdown continues and looks likely to do so for the time being, in this blog I'd like to highlight some of the fantastic feedback and reviews we've been receiving from our Extra Help clients about the services we're continuing to provide during these strange and frightening times.
As you may be aware, Extra Help offers so much more than cleaning services, and it's precisely these other services that clients are increasingly using as we head towards the end of our first month in lockdown.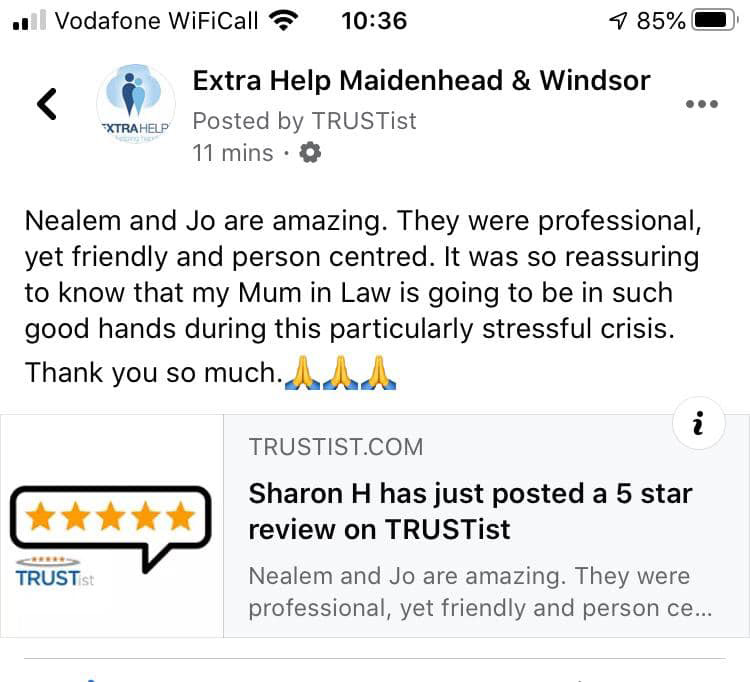 Our franchisees have many clients across the country who are elderly or vulnerable, often with no relatives nearby who can bring them essential food shopping or collect medication for them. Other clients may be actually suffering with symptoms of COVID-19, or members of their families are ill, so are unable to leave the house for 12 weeks for any reason.
While the NHS has had many responses to its request for volunteers, this scheme is allegedly taking a long time to get up and running, especially as everyone who volunteers is having to wait for a DBS check. Referrals for help sent from GPs, pharmacists, Social Services and other NHS staff are taking a frustratingly long time to make their way through the system.
This is why Extra Help is proving to be a godsend to our clients. Our highly experienced home helpers are already DBS checked and have been fully briefed on social distancing measures. They're on standby to do shopping for their clients; pick up prescriptions from pharmacies; drive them to and from appointments (as long as neither the client nor the home helper is displaying signs of COVID-19); call to check on clients who are self-isolating alone; do the gardening; take the dog for a walk etc. Our services particularly come into their own when people have elderly relatives who live far away from them who don't have anyone nearby to help or check on them. Knowing they can call upon Extra Help gives them huge peace of mind and assures them that their loved ones are in good hands.
I am extremely proud of the work my franchisees and their home helpers are doing and would just like to say a huge thank you to them all for the incredibly important work they're doing!
As you'd expect, many of our franchisees are already receiving excellent reviews on the services they're providing during lockdown. In fact, Extra Help Maidenhead & Windsor recently achieved a fantastic milestone, reaching a total of 100 5-star reviews on TRUSTist!
A particularly positive review came from Sharon, a client of Extra Help in Maidenhead & Windsor, who recently posted the following:
"Nealem and Jo are amazing. They were professional, yet friendly and person centred. It was so reassuring to know that my Mum in Law is going to be in such good hands during this particularly stressful crisis. Thank you so much."
Another client in the Maidenhead & Windsor area, Stuart, agreed, saying:
"A very professional business – our initial discussions, contract signing and first delivery were exemplary. We are so pleased to have found these shopping errand services in these times, and hope they can continue."
A client of Extra Help Torbay's, David, echoed the sentiment:
"Absolutely fantastic – looking after my elderly parents with shopping and prescription collection. Totally reliable, easy to deal with and friendly. Has given me massive peace of mind knowing that someone local is on hand to offer help when needed."
To read more of our reviews, visit https://www.trustist.com/local-reviews/website-review-extra-help-reviews-2647.html
If you're looking to get involved with helping your local community at this time, whilst managing a business that can operate and even flourish in the current business climate, Extra Help is well worth considering.
Our tried-and-tested business model is easy to follow and you'll be provided with everything you need to get up and running really quickly, including leaflets, email address, your own local page on our website, training, ongoing support and much more.
And don't forget, we're running a special offer on franchise fees until further notice. Sign up to become an Extra Help franchisee and pay only £7,500 + VAT, saving you 33% on the usual, initial investment.
If you'd like to find out more about providing Extra Help's essential services in your area, please visit https://www.extra-help.co.uk or give us a call on 01604 532932.