In this week's blog, I'd like to extend a warm welcome to Natasha Jouhl, who recently joined the Extra Help family as our new franchisee for Barnet.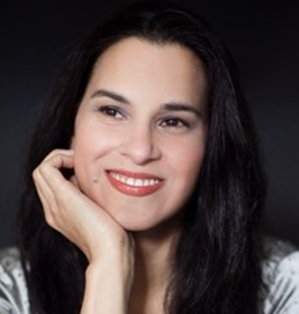 A professional actress by trade, Natasha lives with her partner, Damon in Hemel. She lived in New York from the age of five until thirteen, and since returned to the US for a while but, for the past two years, has lived in the North West London area.
Natasha's franchise covers a very large territory. As well as Barnet, it also includes Elstree, Borehamwood, Bushey, Mill Hill, Hendon, Totteridge and Whetstone, Colindale, Golders Green and Edgware.
Two years ago, Natasha started working as a carer in various hospices in London and Hertfordshire to supplement her acting income. Although she was self-employed, she had never considered starting her own business before, and credits Damon, who works in recruitment, with providing her with the inspiration to look into franchising and consider Extra Help.
"Damon has known Claire Robinson for several years and suggested that Extra Help could be the ideal business for me, as I would be able to build on my existing experience as a carer," says Natasha, "I'm still working as a carer for an agency whilst building my business, but I believe that, ultimately, being my own boss; growing my business at my own pace and being in control of my time will work much better for me."
Although the country was in lockdown, Natasha didn't want to delay and decided to organise a video call with Claire to find out more about the opportunity. She says Claire instantly put her at ease and she felt excited at the prospect of becoming a business owner.
"I had a good feeling about Claire and knew she'd be a great person to work with," says Natasha, "I then spoke to some existing franchisees and their genuine passion and enthusiasm made me feel like it was something I could realistically do as well."
After that, things happened extremely quickly. Once Natasha had secured a loan for the initial franchisee fee and signed the contract, Extra Help managed to organise socially-distanced training for her within two weeks, towards the end of June, despite the country being in lockdown.
She says, "The training was great – I was trained with two other, new franchisees and we also got to meet the Office Genie staff, who provide our call handling, which was really useful."
Natasha then signed up to become a Dementia Friend and attended training on the Extra Help customer management system, before officially launching her new franchise at the end of June. She was assigned a mentor, Nealem Stephens, owner of Extra Help Maidenhead & Windsor, and has already established a strong, working relationship with Denise Cooper of Extra Help Hemel and Leighton Buzzard, which adjoins Natasha's own territory.
"The other franchisees are all so responsive," she says, "I feel I can call on anyone for help and they'll always get back to me. It really does make me feel like I'm not alone in pursuing this new venture, knowing that others have already done it and have succeeded."
Natasha admits that, while the economy is still re-opening and things are far from 'back to normal', it's been slow to get her business off the ground so far, but she's confident that things will pick up. She organised a leaflet drop and has advertised online for home helpers, as well as promoting her business heavily on Facebook, with Damon's assistance. She also joined an online review site, upon the recommendation of other franchisees, which has already provided a few enquiries.
"I'm promoting all of the Extra Help services, although I'm aware that cleaning is likely to be the most popular one initially," says Natasha, "I'm not restricting myself in any way and want to be in a position to respond to any requests for help, however quirky or unusual they may be!"
Her objective for the next six months is to try to grow her client base to the point where she is breaking even. She aims to build relationships with local councils and will also join some local networking groups, once they re-open again.
Natasha's advice for potential franchisees is to aim to find out as much information as you can prior to signing on the dotted line.
"If you do your research properly, you won't feel nervous about jumping in. This particularly applies if this is an area you've never worked in before," she says.
"If you do decide to go for it, don't be disheartened if things are a bit slow to start off with," she continues, "Keep persevering and try not to worry. Determination is the key to success. There are definitely people out there who need a reputable service with a good brand name behind it!"
We strongly believe that Natasha's positive attitude and strength of mind will ensure she makes a success of her new business, and look forward to celebrating her achievements in the future!
If Natasha's story has inspired you and you'd like to run a rewarding, recession-proof business, providing valuable, home-help services to your local community, visit https://www.extra-help.co.uk/franchise-opportunities/ or call us on 01604 532932 for a chat.