Jes Summerhayes, of Haddenham in Buckinghamshire, launched her new franchise on 1st December. She is now responsible for the Chilterns area, which covers Bishopstone, Chinnor, Haddenham, Lewknor, Stone, Thame, Watlington and more.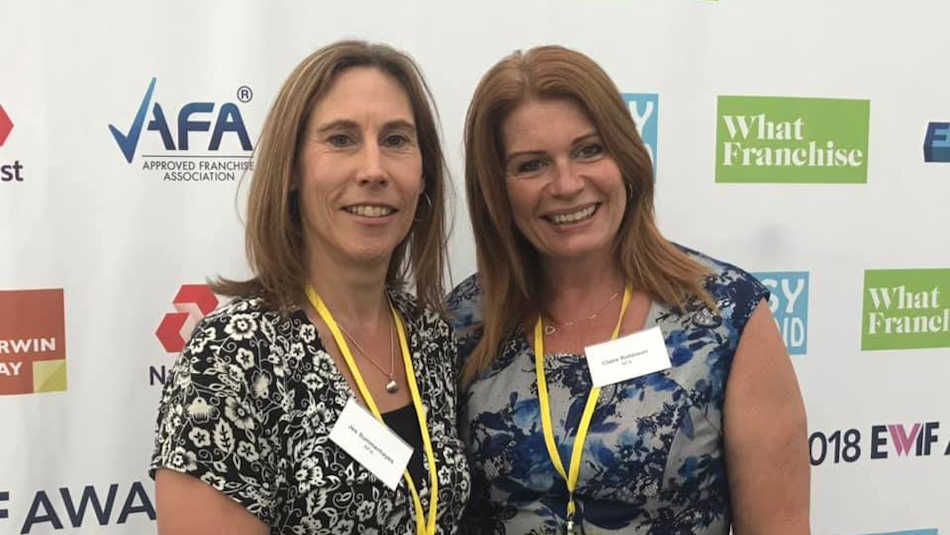 Jes Summeryhays with Extra Help founder Clare Robinson at a recent franchising event
Jes is, in fact, Claire Robinson's old school friend, and is married with two daughters. In the time that Claire has known her, Jes has enjoyed a very well-rounded, comprehensive career and has always worked in roles that involved helping others.
Prior to having children, she worked as a customer engineer within the IT industry. Whilst working in this role, she also studied for a qualification in skincare and nutrition, which was when she discovered her passion for health and wellbeing.
After her daughters were born, Jes worked with special needs children in a primary school, providing extra support to teaching assistants and covering residential weekends. Upon leaving the education sector, Jes started her own network marketing business, under the Forever Living banner, selling pure aloe vera products that help people with a wide variety of conditions and ailments. She also helps out in a pet shop for a few hours a week, providing advice to customers on pet nutrition, and volunteers for a homeless charity.
With Jes's passion for the wellbeing of others, Claire felt she would be the ideal fit for Extra Help and repeatedly tried to persuade her to join the team!
When Claire took over the AFA, Jes started attending trade shows and exhibitions, initially to help out the team. However, in doing so, she gained a thorough understanding of the franchising sector and became very familiar with Extra Help in the process.
Recently, the Chilterns area became available, and Jes decided it was time to go for it. "It really does fit in with the ethos of what I already do," says Jes, "My Forever business is also about helping people, so it seemed like the perfect extension, especially as I've already established a strong, local network of potential clients."
Jes says it was easy to make the decision to join Extra Help. However, although she already knew Claire, she says this wasn't the main, influencing factor.
"I knew that Claire was a genuine person, of great integrity, which was lucky for me, as that part of the decision had already been made for me," she says. "However, I still looked at the business objectively, in great depth. If I hadn't thought it was a good business model, I wouldn't have gone ahead with it, regardless of the friendship. In fact, it's a great business and the ethos behind it is fantastic!"
Once Jes had made the decision, the process of becoming a franchisee was very straightforward, taking only a month or so, from start to finish. She then attended a two-day training course last month, then started her franchise on 1st December.
Since starting her franchise, Jes says she has received first-class support from the Extra Help team. "Nealem and Michaela have been brilliant and I know they're always at the end of the phone if I need them," she says. "I've already been invited me to meet up with the franchisees from London. It really does feel like you're part of a family."
Jes plans on promoting the whole range of Extra Help services from the beginning, as her aim is purely to help people, regardless of their situation, so she doesn't want to set any limitations. In fact, Jes will even be adding a further, unique service, equine cover, to her portfolio.
"My daughters both work in equine, so it makes total sense," she says, "For example, if someone is away and has someone looking after their horses for them who subsequently goes off sick, they can call on us to provide cover."
Although Jes only started her franchise at the beginning of December, her web page is already live and she has advertised in local shops. She is due to interview four home-helpers very soon and will be writing a piece for 'Vale Life', a local interest magazine, on health and wellness early next year, in which she will also promote Extra Help.
Jes believes the best thing about the home-help industry is the ability to make a genuine difference to people's lives.
"Even if I can do that for just a few people, I'll be happy!" says Jes. "There are so many people out there who are struggling, and our service is affordable, falls within the Attendance Allowance bracket, and won't result in them having to sell their house. Extra Help means they don't have to be miserable or lonely. These days, we don't live in a society where family always live on the doorstep. Extra Help provides families with the reassurance that their loved ones are being looked after by people they can trust."
Jes's most important piece of advice or potential franchisees is to make sure they speak to existing franchisees before signing on the dotted line. "I was lucky enough to meet Extra Help franchisees on various occasions, at the shows and exhibitions I attended, and that was what persuaded me to make the decision – it's about the people," she says. "I know I haven't been up and running for long, but I'd be more than happy to speak to anyone who is interested. It really is a great way to start your own business. Don't think you can't do it. Don't overthink it. Just do it!"
---
If you're interested in running your own home-help and domestic cleaning business and would like to find out more about the Extra Help franchise opportunity, please give us a call on 01604 532932.