Many of us are familiar with the feeling of being pulled in all directions, especially at work, with children, or even just trying to keep on top of day-to-day tasks at home when you're busy trying to earn a living. Many people are reluctant to ask for help, insisting that they can cope alone.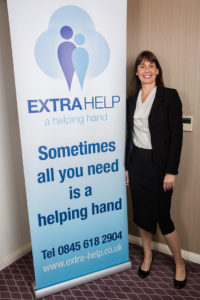 Either consciously or sub-consciously, we constantly compare ourselves to other people we meet, some of whom seem to manage their neatly-ordered lives with superhuman capacity. Some of the mums we meet in the playground or people we bump into on the High Street somehow have everything sorted – neat and tidy homes, high-achieving children, organised finances and thriving community relations, with a support network in place to ensure that, in the event of something happening, like the arrival of a new baby or an elderly relative needing assistance, each and every box is already ticked. And there seems to be an expectation that we should also be breezing through life with the same ease.
In a world that is always judging and comparing us, it's no wonder we sometimes find it hard to ask for help.
So what becomes of the recently bereaved, immobile and housebound lady, or the lady who is recovering from a hip operation whilst also managing the challenging demands of her husband with dementia? How about the exhausted, sleep-deprived mum-of-four, who is dealing with some very difficult issues with one of her children that goes beyond the jurisdiction of the school? Or the elderly lady who is so crippled with arthritis that she struggles with the stairs in her own home? What about the lady who has been poorly for a long time and still doesn't have a diagnosis? Yet every single day, she uses cross-stitch to make a little bit of the bedspread that she will eventually send to her newest granddaughter in New Zealand.
All of the above are examples of real-life customers who we, at Extra Help Rickmansworth, help, on a regular basis, to manage their day-to-day tasks. Whether it's cleaning their bathrooms, preparing their meals, changing their bedsheets, posting a letter for them, or just sitting and chatting to them about their worries and concerns, our assistance enables them to spend their time on the things that bring them joy in life, such as seeing their family and friends.
As trivial as it may seem to you and me, Extra Help Rickmansworth provides a vital service to these people that really gives them the best of both worlds. With Extra Help Rickmansworth, you receive the professionalism of an agency but it comes with the personal touch that makes all of our customers feel truly valued.
Moira Tonge, the franchise owner, takes great care of us as her home helpers, as well as her customers, and ensures a consistently high standard of service. Each of her home helpers has been DBS checked and will carry out a risk assessment on every home they visit. They are always aware of contact procedures and contingency plans, particularly when the service is provided for an elderly or vulnerable client.
This is the essence of Extra Help… offering a helping hand to anyone who needs it, bringing joy into their lives and enabling them to spend their time doing the things they love with the people that matter.